A Closer Look at the Genesis SUV GV80 Interior in Miami Gardens

Genesis SUV GV80 Interior – Oozing style and dripping opulence, the Genesis GV80 is in a class of its own. As the first SUV by the manufacturer, the Genesis GV80 for sale embodies everything you come to expect from the premium brand in the form of an SUV. The exterior is accented by premium styling elements and head-turning good looks. But once you open the doors, you'll enter an entirely new world of luxury.
At Lehman Genesis, we are proud to be the leading dealership in the area offering a robust inventory of the new Genesis GV80 for sale. Let's take a closer look at the dynamic Genesis SUV GV80's interior. And if you're looking to get more up close and personal, don't hesitate to reach out to Lehman Genesis.


Welcome to the World-Class Premium Interior
No matter where you're sitting in the GV80, you'll be enveloped in premium, soft-touch materials, and detailed styling. The Genesis SUV GV80's interior is designed immaculately with the perfect use of white space to harness both function and form. The eye-catching two-tone steering wheel is expertly crafted from the most exclusive materials and perfectly crafted for the GV80.
To ensure you enjoy the highest and most luxurious experience, the GV80's interior is highlighted by Nappa Leather Seat-Quilting pattern with the iconic G-Matrix pattern. It's also padded to deliver a supple texture. And throughout the interior of the GV80, you'll notice premium finishes and proportions, such as the real wood trim. This added element gives it a flourish of authenticity.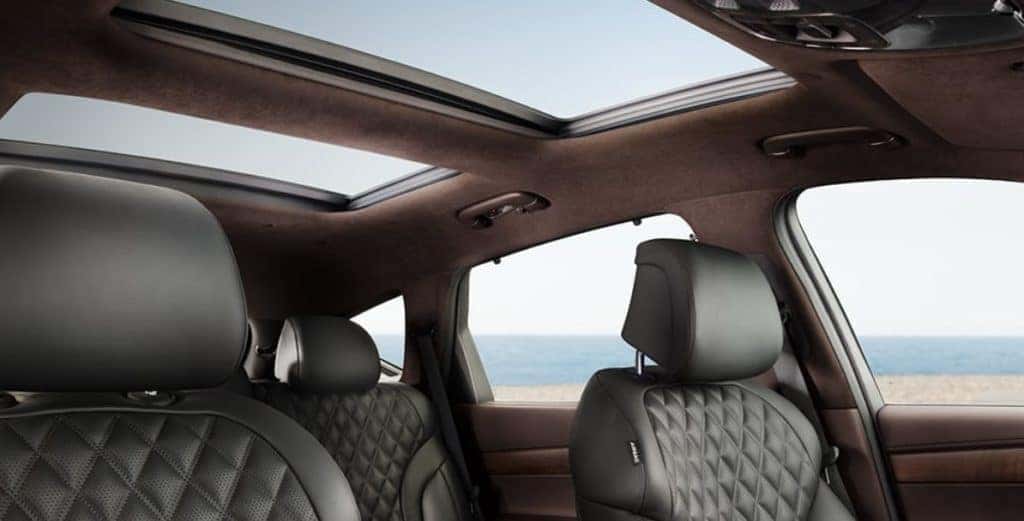 Technology That Connects You to Your Journey
The GV80's interior is uniquely designed around the large 14.5" touchscreen Genesis infotainment system. Boasting a stunning display and unrivaled connectivity, it offers quick access to Google Android Auto, Valet mode, AppleCarPlay, Genesis Connected Services, and much more. In addition, the Genesis SUV GV80's interior is equipped with a vast range of cutting-edge premium interior features.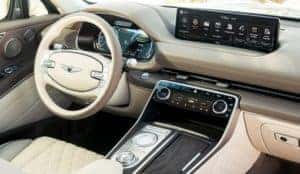 Cloud-Based Voice Recognition
You can control the dynamic display via cloud-based voice recognition. These convenient voice controls allow you to manage air conditioning, heated seats, sunroof, windows, and more without ever lifting a finger. On the other hand, you can use the Genesis Touch Controller system that captures your handwriting for quicker usability through gesture recognition.
Augmented Reality Navigation
Finding the best path forward is made easier with the GV80's state-of-the-art Augmented Reality Navigation. By capturing a video feed of your view in real-time, the system superimposes key navigation graphics, such as:
Street names,
Forward collision warnings
Arrows, and
Lane departure alerts

Built-In Real-Time Camera
Also, on the vivid display, you can also gain superior peace of mind through the Built-In Real-Time camera. This innovative solution lets you observe obstacles as well as your trajectory for more confidence as you're maneuvering busy parking lots or tight parking spots.
Digital CarKey
With the GV80, you can say goodbye to physical keys — thanks to the Digital CarKey. This state-of-the-art innovation allows you to use your smartphone to easily lock, unlock, start, and more to your Genesis GV80.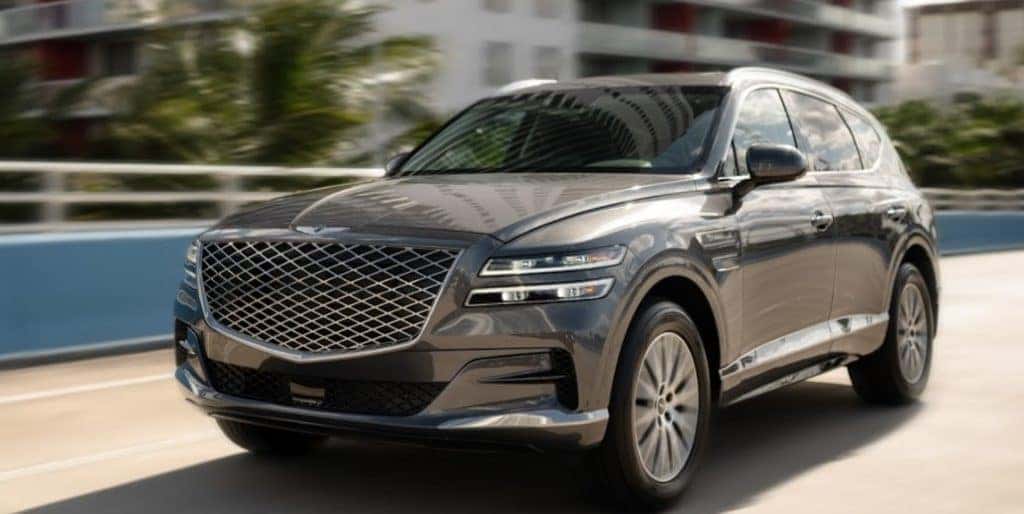 At Lehman Genesis, we are proud to offer a large selection of the Genesis GV80 for sale. Our experienced team members will match you to the perfect trim based on your needs and budget. Contact Lehman Genesis today to learn more about our GV80 SUVs for sale.


---