New Genesis G80 Review Near Miami Gardens, FL

We love the G80 for its technologically-forward driving experience, luxurious interior materials, and sleek exterior appearance. When you're looking for the ideal luxury sedan, keep your eye on the 2021 G80.
---
2021 G80 Model Review in Miami Gardens, FL
As far as luxury sedans go, Genesis has always impressed. Every year, we love seeing what they create, and 2021 is no different. The first look at the 2021 Genesis G80 is an impressive glimpse at what's to come. This model has been reimagined over the years to become something special.
An Entrance Like No Other
We'll be honest; the 2021 G80 looks like something out of a Bond movie. Its beautiful, smooth appearance has been designed flawlessly, created by some of the most talented minds. A large front grille makes an impactful entrance as the aerodynamic body follows. LED quad headlamps forge a path through the darkness, and bystanders will be able to see this sedan long before the beautiful silhouette reaches them.
Luxurious Driving Experience Rivaling Competition
The G80 comes with the world's first Smart Cruise Control experience. An 8-speed SHIFTRONIC transmission is available with all-wheel-drive, so you can feel the power behind the 3.5-liter turbocharged V-6 engine. No other luxury sedan will let you revel in this beautiful engine like the G80. The G80 takes curves like a champ, with a noiseless, butter-smooth ride. You'll be surrounded by high quality materials, like a matte wood trim and leather seats. The Genesis G80 defines luxury vehicles.
---

---
Plenty of Benefits to Support Customers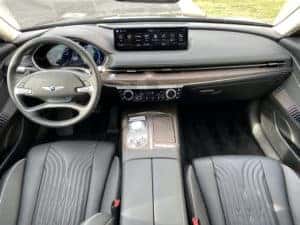 Genesis does everything in their power to make sure their customers are supported. That's why the G80 comes with all the essentials, like 24/7 roadside assistance. Complementary maintenance is also available. The advanced and sophisticated technology included with the G80 can be regularly updated, so you'll never miss a step forward. With purchase, you'll even get a 3-month free trial of SiriusXM All Access.
Why Buy a Luxury Sedan?
With a price tag at just over $40,000, you might wonder what makes a luxury sedan worth the price. With the G80, you'll enjoy a long-lasting reliable sedan that makes you feel like royalty. The high quality materials will last for years to come, and the engine can be fine tuned to run smoothly for the foreseeable future. With the support of the Genesis brand and the longevity of the G80, this luxury sedan will pay for itself over time.
Want more information about the New Genesis G80?
Give the Genesis experts at Lehman Genesis in Miami a call today – Are you curious about what else the G80 has to offer? Our certified Genesis experts can help. Whether you're looking for a brand new luxury sedan, or an affordable used option, our family-owned dealership has you covered. If you're in the Miami Gardens area, we're more than happy to work with you to find the Genesis model you've always wanted!
---
Contact Us | Shop New Genesis G80
---